The Kink Underground Fetish Revue did it again!
"Get down and give me twenty...spankings!"
---
This time we got tough - June 2nd was military themed! Once again Paparazzi hosted Victoria's ONLY fetish-themed clubnight featuring sexy dance music, kinky performances, and YOU dressed in your fetish best!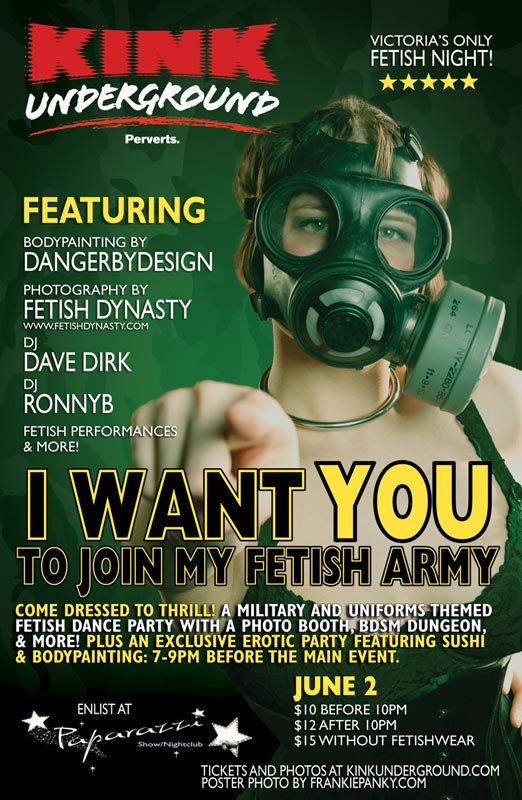 WHEN
Saturday, June 02, 2012 • 7:00 PM – 2:00 AM
WHERE
Paparazzi Nightclub • 642 Johnson Street, Victoria, BC Map »
COST
$10 before 10 PM
$12 after 10 PM
$15 if you aren't in fetishwear.
Photo Gallery
---
COSTUME THEME
A fetish party is a costume party! This event is military themed, so wear your military uniforms, camouflage, your tight military-themed latex, your sailor outfits and much more! But you don't need to be on theme - we encourage drag, leather, latex, lingerie, uniforms, PVC, cosplay, furry, and much more. Dress sexy!
---
EXCLUSIVE PRE-PARTY
Come out early to the Kink Underground Military Fetish Revue!
The sexiest of Victoria's fetishists will be chatting over cocktails and enjoying sushi (vegetarian options) served sinfully off the semi-nude bodies of our sexiest friends (don't worry, it will be food safe!)
DANGERBYDESIGN will be at centre stage doing free body painting - come get made up in head-to-toe camouflage or other amazing body art creations!
Get there early, the sushi party ends at 9PM! Your entry to the preparty pays for the entire evening...after the sushi is cleared away, the performances will begin at 10PM!
---
MUSIC
DJ Dave Dirk & DJ RonnyBee
---
PHOTOGRAPHY
Fetish Dynasty
---
BODY PAINTING
Body Painting by Christina Cheply
---
KINKY PERFORMERS
To be announced. If you want to perform, please contact us at info@kinkunderground.com
---
DUNGEON
Kink Underground is bringing a bigger and better dungeon! We will have a cross, a spanking bench (or two!) and a hardpoint for rope suspensions *inside the dungeon*. Remember, all play must occur inside the dungeon space!
June 2 - Come Dressed to KILL!