Kink Underground 3: Fetish Monster
We're having a Halloween Fetish Dance Party on October 13!
---
Join us for a horrifyingly kinky evening with our halloween fetish dance party! Come dressed in fetish attire or your halloween best (no streetwear!) and enjoy our photo booth, BDSM dungeon, fetish performances, and more!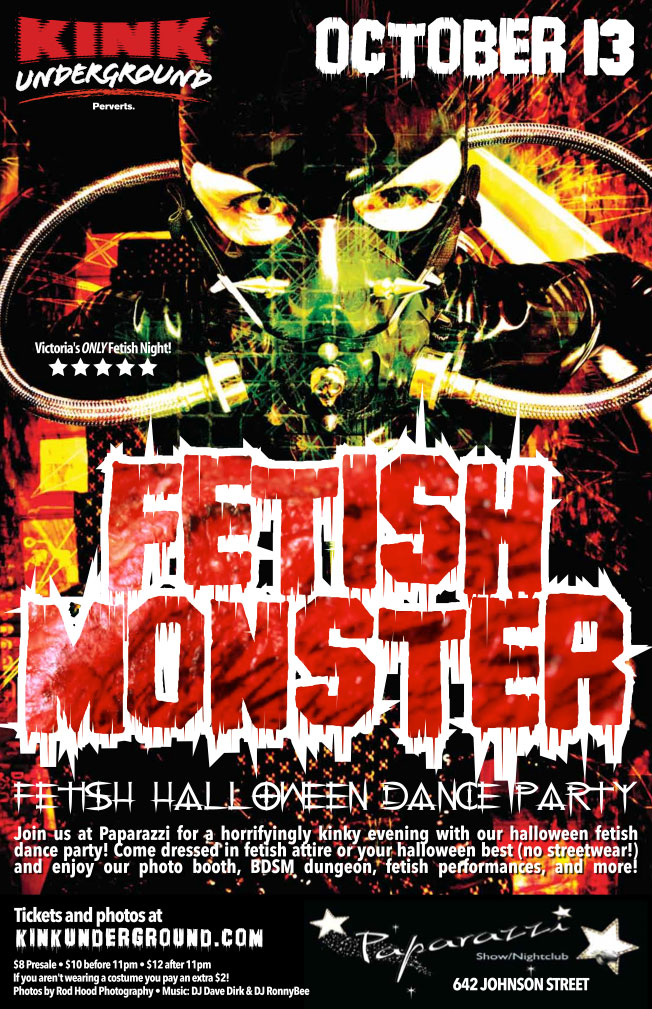 WHEN
Saturday, October 13, 2012 • 9:00 PM – 2:00 AM
WHERE
Paparazzi Nightclub • 642 Johnson Street, Victoria, BC Map
$ COST
$8 presale Buy tickets online
$10 before 11 PM
$12 after 11 PM
Pay an extra $2 if you aren't in fetishwear!
Photo Gallery
---
COSTUME THEME
A fetish party is a costume party! This event is Halloween themed, so feel free to wear any kind of costume! But of course our favourites are drag, leather, latex, lingerie, uniforms, PVC, cosplay, furry, and much more. Dress sexy!
---
MUSIC
DJ Dave Dirk & DJ RonnyBee
---
PHOTOGRAPHY
John Warnock of Absolute Underground
---
KINKY PERFORMERS
To be announced. If you want to perform, please contact us at info@kinkunderground.com
---
DUNGEON
We will have a cross, two spanking benches and a hardpoint for rope suspensions inside the dungeon. Remember, all play must occur inside the dungeon space! Check out our Dungeon Rules page for more info.
October 13 - Fetish Monster!