Dungeons have rules. Here are ours.
If you break our rules, you don't get a spanking or a delicious punishment. You get asked to leave.
---
Follow these rules and thou shalt come to no harm:
All individuals playing in the Dungeon must first sign a waiver.
No alcohol inside the Dungeon.
No means No! Play only involves consensual acts.
Absolutely no sexual acts or any type of penetrative play are permitted.
Genitals must be covered at all times (this includes nipples, ladies. Sorry, that's BC law in places serving alcohol).
All SM play must take place inside the dungeon.
The house safeword is "SAFEWORD" (used to halt play when necessary). If you'll be using a gag in a scene a visual safeword MUST be established first with Dungeon Staff.
No edge play of any sort is permitted. This includes electrical play, single tails, fire play, take down scenes, play piercing and more. (If you believe your scene even might be edge play please check with Dungeon Staff.)
Violet wand play is permitted, but only below the neck.
Anyone requiring first aid should immediately see Dungeon Staff.
Please have a spotter if you're using the suspension hardpoint.
If you're unsure how to use a piece of equipment, ask for assistance from Dungeon Staff.
Do not move any piece of equipment without first asking Dungeon Staff.
The house is NOT responsible for lost or stolen articles.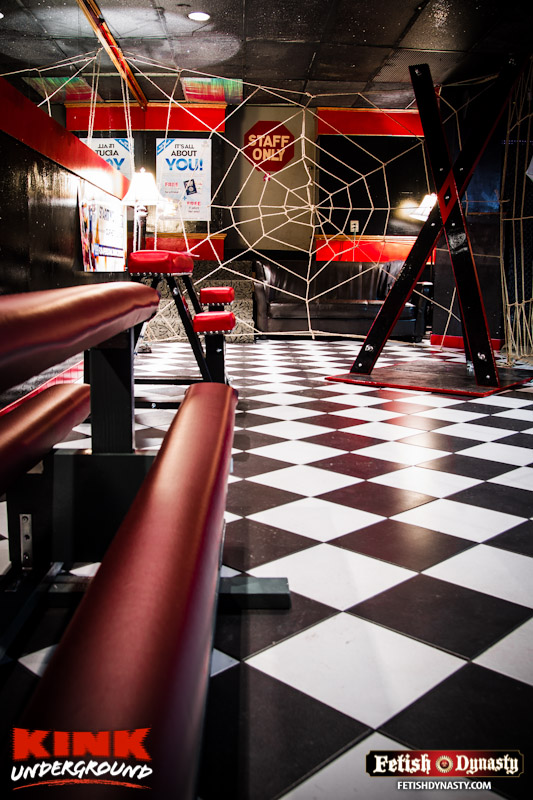 Equipment:
We have been fortunate to have recieved offers of equipment loans from Fetish Noir in Vancouver, Bedlam Victoria, Sir Dragon Z, and Sagacity of Victoria to support our event. The dungeon furniture may change each event; however, we try to have a cross, a spanking bench, and a suspension hardpoint available in the dungeon.
Kinky Performers Needed!
Kink Underground is always looking for kinky performers! If you have an idea for a PAID performance that has a significant fetish or kink focus, please contact us!